I am so tired that I am a big puddle.

The convention was very crowded. Like so crowded that it was unreal. The crowds were relentless. That said, I pinched myself hourly at how amazing it was that I was there signing me and
jimrugg's comic book. It was really great.

Some people I saw a lot and some people not at all! (looked and looked for you, but sadly did not have your number!
robosborne !!! I )

Dinners. Mmmmm. I ended up having dinner with Ron Wimberly and Josh Dysart, twice. And those dinner conversations. So. Good.

Saturday was The Minx panel, (podcast here) which was terrific. Like, seriously, I am so excited about all the titles on the line. All the ones that are coming up in 2008 were announced, which includes Janes in Love. Every time a new one was talked about, I was like, "Oh snap! I want to read that. Oh snap! That looks gorgeous! Oh snap! I wish I had come up with that idea!" Also, everyone on Minx, all the creators are so cool and great.

The Minx-ers mingling on stage before the panel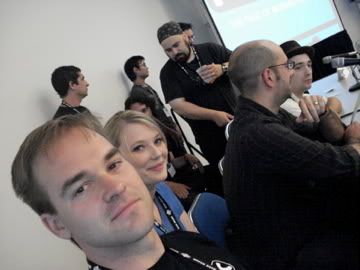 I was very honored to sign at the CBLDF (Comic Book Legal Defense Fund) table. It's an important cause and I hope you'll all join me in supporting it.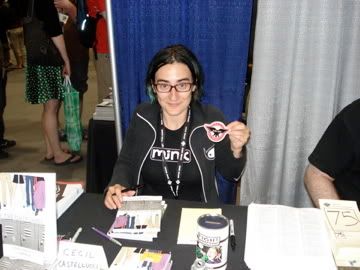 On Saturday I got to be on a really fascinating panel set up by Douglas Wolk called "Graphic Novels are Not Literature." My fellow panelists, Dan Nadel, Austin Grossman, Paul Tobin, and Sara Ryan (
sararyan ) were all so eloquent and brilliant. I still don't know how I feel about the question. It's a good conversation to keep having.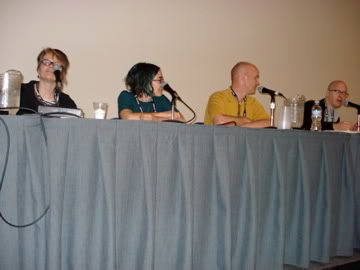 Also, just when it seemed like I was not going to meet
warren_ellis, and I was kind of bummed about it, while standing in the lobby of the convention center on my way to that panel, and talking to someone (oh if only I could remember who I was talking to but my brain has turned to mush), a gentleman passed me by, kissed my forehead (a stolen kiss!) and continued walking, leaving me with these words as he walked mysteriously away..."Cecil Castellucci, Warren Ellis, a pleasure to meet you..."

So, HI Warren! So glad I got to meet you for half a second!

Sunday night ended with a swell dinner and a soiree where I got to at least say bye to the bunch of amazing people in my comic book life. I really love being in it, this comic book world. Thanks to everyone who came up to me in San Diego and made me feel so welcome.

Now I am so tired. So. So. So. Tired.